MY WEB DEVELOPMENT AND PROJECT MANAGEMENT EXPERIENCE
Strategic Partners & Media
I got my first post-grad gig as the Digital Intern for a full-service political ad agency in Annapolis, MD called Strategic Partners & Media. Did I have any interest in working in politics? Absolutely not. Did I care about commuting over an hour each way to and from work every day? Absolutely not. Did I challenge myself each day being the youngest person in every room to voice my opinion on gubernatorial advertising campaigns and web design strategies I had no business weighing in on? Yup. Did it get my internship ended early and earn me a full-time job offer less than three months into Summer? You betcha!
 Thus, my first full-time gig started as the Interactive Content Coordinator.
What's an Interactive Content Coordinator you ask? We didn't know either! But in meetings with our lead developer and VP of Digital, we felt it was a cool, unique, title that represented what I was doing in my day-to-day. I wore that title with pride, and my day-to-day activities involved being the lead graphic designer for the firm, designing anything from campaign logos, proposals, social media graphics, presentation decks,
posters
, t-shirts, bumper stickers, billboards, and most memorably, custom temporary tattoos! Second to being a Graphic Designer to SPM, I was a web designer, helping our lead developer design
official campaign websites
, landing pages, sign-up forums,
informational webpages telling and showing you why renewable energy is important
(it is!) and so much more. I also designed and managed email marketing campaigns, online advertising campaigns, edited videos, served as a
social media writer and manager
etc. etc. etc. Hence, the cool, non-specific job title. I got a ton of exposure to all things digital media and learned all of the ins and outs of what goes into several different kinds of projects.
Being a team of two (and two only) designing and managing several different web projects at a time was challenging, rewarding, stressful, hilarious, and fun. I was surrounded by amazing mentors and will cherish the impactful projects I got to play a part in at such a young age.
Washington Speakers Bureau
While SPM was an amazing place to work, I wanted to become more of a project manager and less of a designer. Our small team didn't have much room to grow and try different things, so I sought out some different opportunities until I found the Washington Speakers Bureau. WSB is a talent agency for people that have impacted the world and enlighten people by telling them how and why they did it; and how those people can change the way they work and/or live in order to find success the way they did. Being able to work with some of the most brilliant minds in the world sounded like an unreal opportunity, so when I was offered the (mouthful, yet meaningful) Speaker Relations & Brand Management Associate position, I immediately accepted.
I came into WSB right in the middle of a massive website redesign project, and although my position wasn't originally meant to be any sort of website designer, I couldn't help myself and volunteered my experience to the Marketing Department to help curate, create, and design the most impactful speaker profiles we could. Sixty-hour weeks became the norm starting from my very first week, but I embraced the challenge and we completed the biggest web migration project I've ever been involved in. Within two months, we had successfully migrated and launched a website that showcased why WSB is the world's premier speakers bureau and I couldn't be any more proud of how it turned out. I also got to work on some awesome proposals, PowerPoints that were showcased in front of thousands, and much more during my time there.
During my time at WSB, I was able to wear multiple hats and work with all of our internal departments on so many cool projects, but the highlight is definitely the people I was able to work with that have gone out of their way to make the world a better place. From pioneers like Madeleine Albright who insists I have one of the "prettiest names she's ever heard" (my full name is Baker Fallon Horsey Landon) (also a mouthful, yet meaningful), to pillars of positivity like Neil Pasricha who said I was one of the few people that had happiness and eagerness that immediately struck him, to former government official Andy Busch who commended me for my work ethic and responsiveness. There was a never a day at WSB where I didn't take who I worked with for granted. Being able to help them with their various projects was a blast and being recognized them is an honor. How could I top a job like this, you ask? By getting my dream job, of course! Grab some popcorn and keep reading to learn how I got my foot in the door at the place that mesmerized me, entertained me, broke my heart, and defined my childhood.
*I was also promoted to Digital Community Manager during my time at WSB, overseeing all of our digital strategies, social media content creation and advertising campaigns. I'm very proud of that accomplishment, but for the sake of this long-winded story, I skipped over it. Feel free to ask me about it and I can speak about my experience in more detail!
I forgot to mention that WWE's Chief Brand Officer, Stephanie McMahon, was also one of our clients at WSB. I also forgot to mention that I conned (worked my butt off to earn) my way to becoming her Relationship Manager. I met with her Brand team at WWE weekly, planning and assessing speaking engagements she could make an impact at, designing Marketing initiatives to promote her amazing speeches, and getting her in front of crowds to show that WWE is a champion of diversity, inclusion, and one heck of a business operation. So, when they posted a job opening for Creative Services Talent Coordinator, you bet I leveraged every single relationship I had created within WWE and got an interview for the job. Spoiler alert: it didn't take WWE long to realize how great I am, and I was offered the job.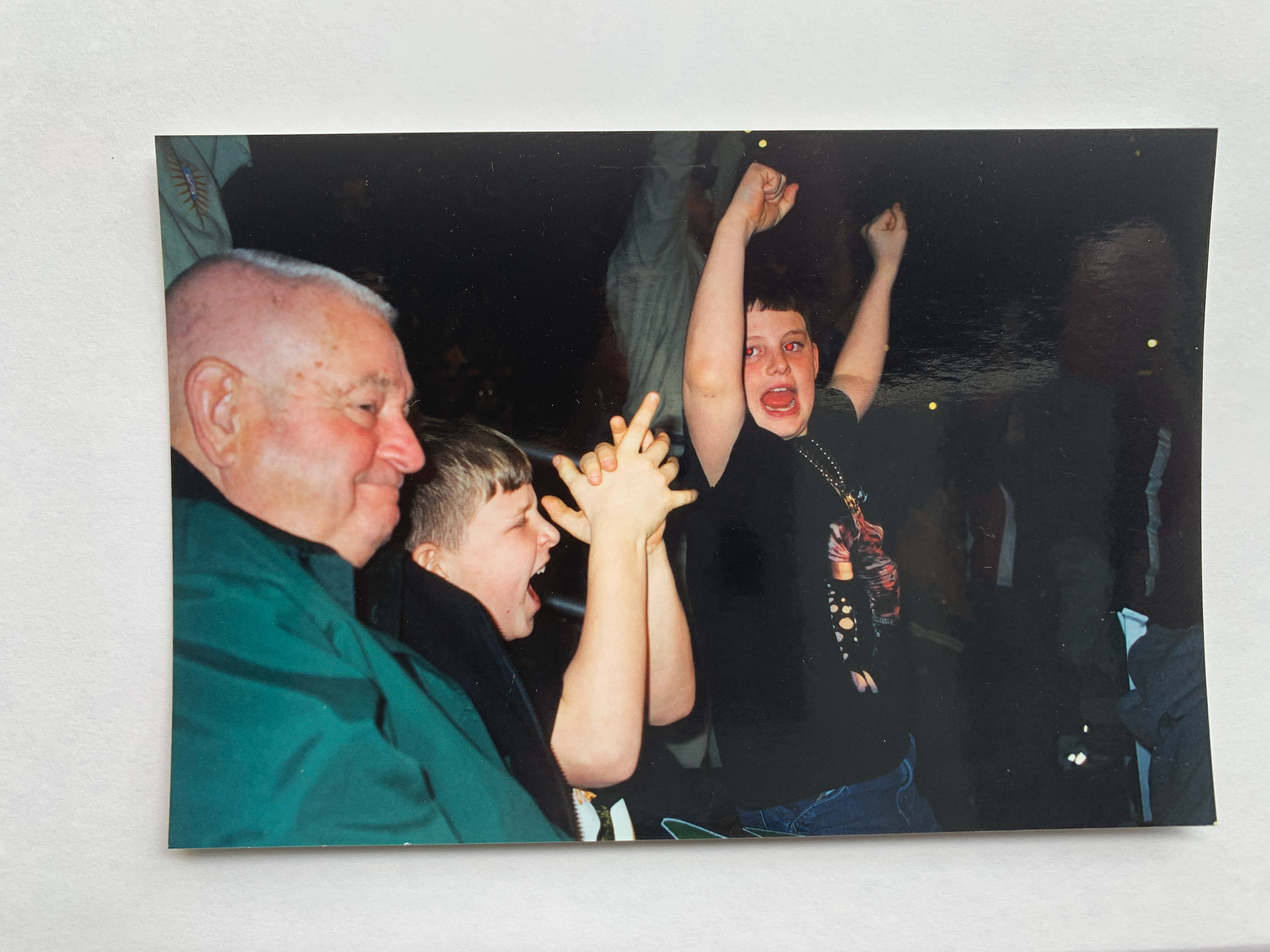 My eight year-old reaction in that picture was basically my reaction when I was offered a job from the company that brought me so many fond memories as a kid. Shell-shocked, ecstatic, scared, confident, and nervous, I packed up my life, said my goodbyes and moved down to Orlando, FL. There, the
WWE Performance Center
would serve as my office (don't be jealous of the eight wrestling rings and state of the art gym - your office looks cool too!) and I'd get to work helping WWE Superstars work on their branding, costumes, slogans, but most importantly, their
t-shirt designs
. "Getting a t-shirt" is a rite of passage for a professional wrestler. They work their entire lives to entertain and put their bodies on the line night in and night out just to put smiles on kid's faces (like my face in that picture.) Most wrestlers start their careers in bingo halls or VFW's in front of 20-person crowds and one of the few ways they make money is by selling t-shirts. 
So, when they finally make it to the top of the professional wrestling mountain working for WWE, getting an official WWE-licensed t-shirt with their name and face on it is a monumental accomplishment. Playing a major role in what those designs look like is nothing short of amazing and I never will get over the fact that I do it as a job. But, it gets better. Fast-forward three months into my tenure with WWE and the VP of NXT asks me if I can meet with him. This isn't out of the ordinary, as we meet multiple times per week for approval on t-shirts, championship belt designs and poster designs for NXT, but I was nervous to say the least. Long story short, he told me the staff had taken notice in my work effort, my eagerness, and my knowledge, and he wanted me to join the writing team at NXT.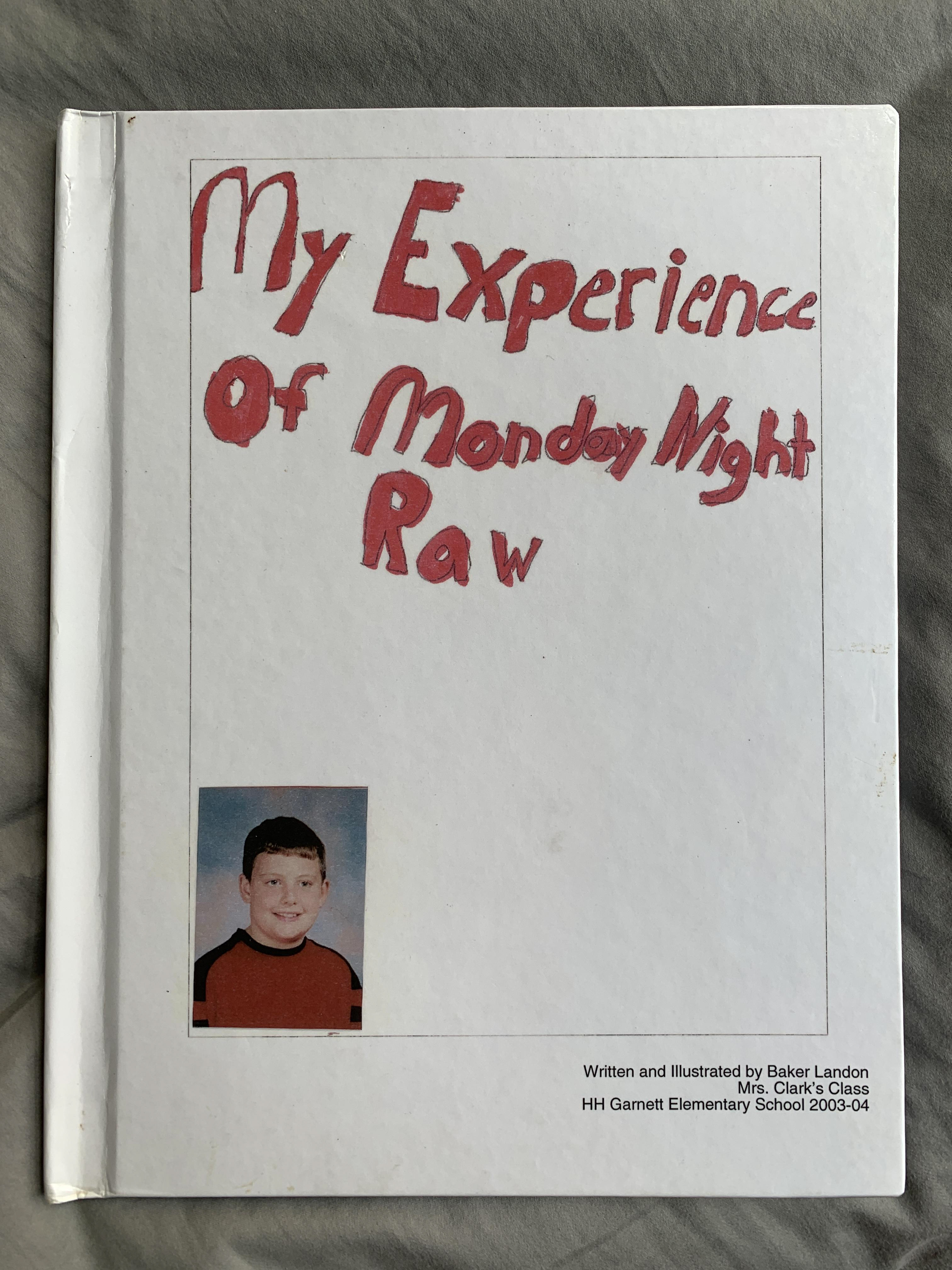 I was extremely cautious at first. I had no true professional writing experience (excluding my second grade book), I knew nothing about producing a television show, and I had never written a script, nor directed a scene in my life. But did I accept? You know it! Thus, began the most rewarding, challenging, and fun endeavor I have ever entered. I can't explain the kind of nerves I felt the first time I sat in a room with WWE Hall of Famers, such as 14-time World Champion
Triple H
, "The Heartbreak Kid"
Shawn Michaels
, and one half of the New Age Outlaws,
Road Dogg
. I was in a room with living legends that I cheered, booed, and looked up to my entire life talking about wrestling, oh, and it was MY JOB.
It didn't take long for me to earn the respect of my childhood heroes and they soon valued my opinion on what we chose to showcase on our weekly television show, NXT. I hit the ground running writing scripts, promos, backstage segments, match sequences, and helped direct the various scenes and angles that go into a weekly episodic television show. I continued my first job as a project manager for all of the NXT Superstars' branding while taking on the writing role. I have never been busier, more stressed, more sleep deprived, in my life. But, I had also never been so creatively challenged, so happy with my work, and more rewarded than making millions of people happy - putting on a product that suspends disbelief, that's a family friendly option to escape reality for a few hours a week.
Unfortunately, the current pandemic forced WWE to make some drastic workforce changes, laying off and furloughing hundreds of talent, producers, coaches, and employees. One of which was me. I was furloughed in April and had a tough decision to make. I chose to control as much of the situation as I could and seek employment elsewhere (fully backed and supported by my supervisor, who would be happy to talk about how great I am too!)
This leaves me to try and top the most fun I've ever had in my life, doing something I love for a career. I saw the job description for Content Coordinator at 2U and I know I am primed for this role. I can tell this is the type of job atmosphere I would excel in. I could be myself, I could be an asset, I could be successful, and most importantly, I could have fun.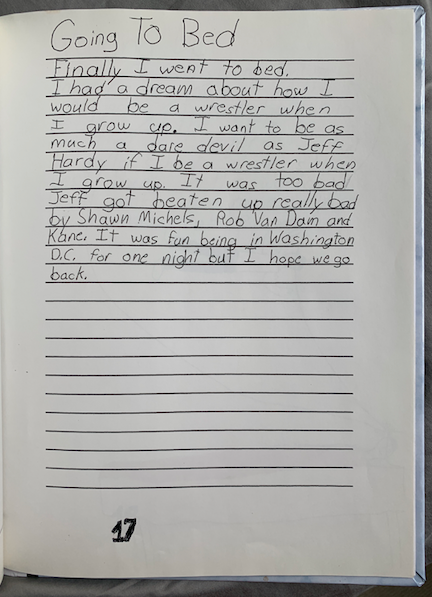 In this riveting "chapter" of my novel, "My Experience of Monday Night Raw," two things stood out to me. I wrote about how I wanted to be wrestler when I grew up and how I hoped I went back to Washington, DC. Well, 17 years later, here I am, living in DC
for the second time
 and (technically still) working for the WWE. Since I didn't grow up to be 6'4 and 250 pounds, for the sake of this story, I'm calling working for the WWE being a wrestler.
Point being I wrote down goals and I achieved them. I'm struggling to figure out how I can top living out my lifelong dream, but I'm hoping you'll give me a shot to prove myself. Although that chapter of my life is ending way sooner than I imagined, I'm taking it in stride. My new goal (philosophy) is simple; work hard and have fun doing it! I believe I could do that being a Content Coordinator at 2U. I appreciate your consideration for allowing me to do it!