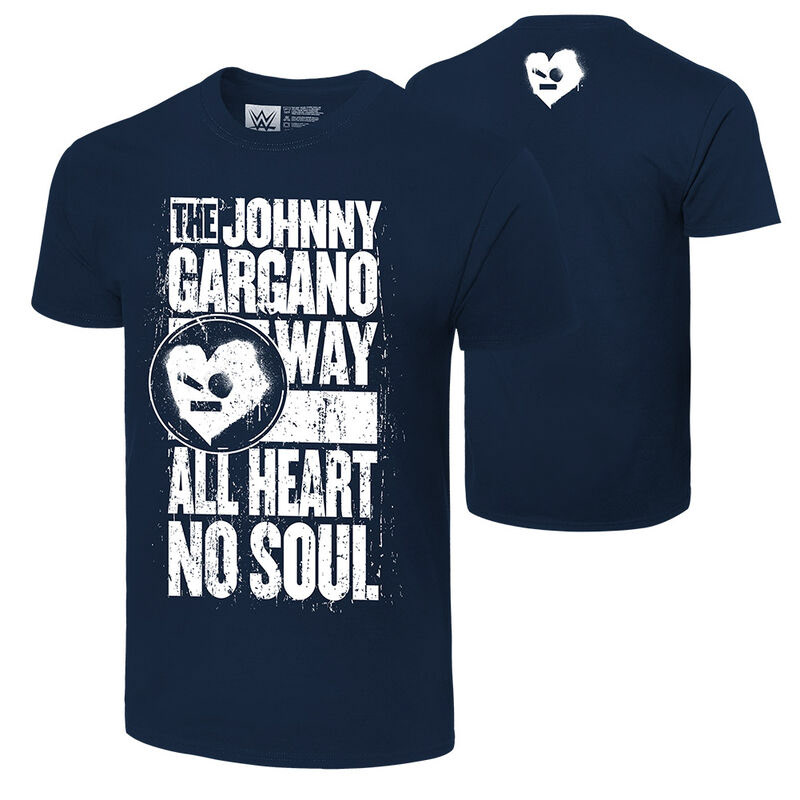 Johnny Gargano "All Heart, No Soul" Authentic T-Shirt
I worked with Johnny Gargano to produce the first t-shirt design of his "heel" character in NXT. A "heel" in professional wrestling is known as a bad guy and once Johnny's character became known as a bad guy, he needed new creative. Upon some thought behind what phrase could represent his new character, "All Heart No Soul" was decided on to contradict his previous monicker of "The Heart and Soul of NXT."
Candice LeRae "The Poison Pixie" Authentic T-Shirt
Candice LeRae is another NXT Superstar who transitioned from good to bad along with her husband, Johnny Gargano. Subsequently, Candice and I worked on this design to go against her previous "Pint-Sized Pixie" branding. "The Poison Pixie" creative was designed to pay homage to her character development from good to bad.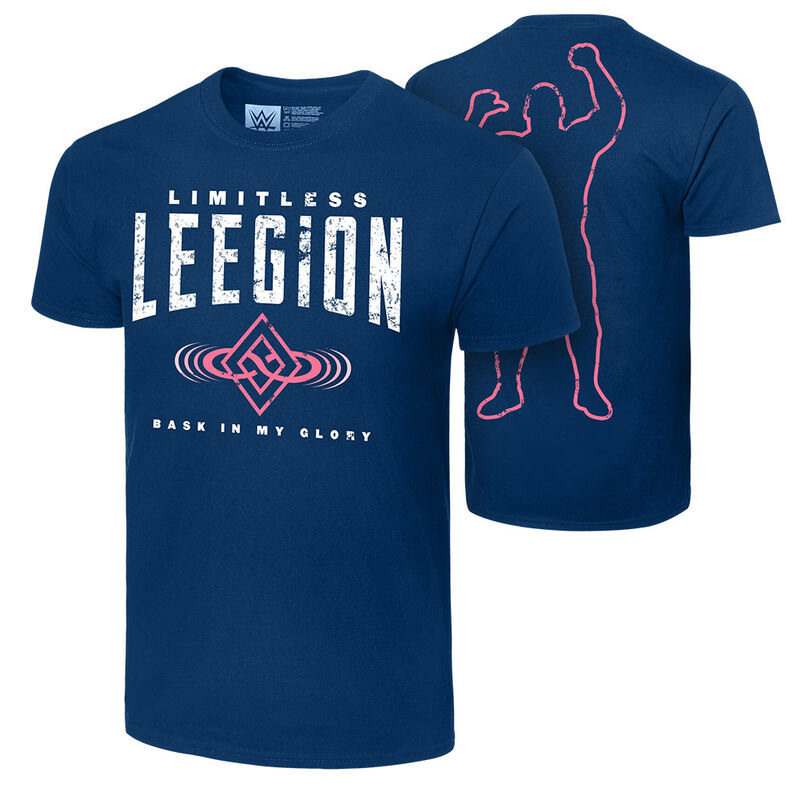 Keith Lee "Limitless Leegion" Authentic T-Shirt
Keith Lee and myself worked together to get this design out as his first official WWE authentic t-shirt. Keith came up with the idea to call his fanbase the "Leegion" and his "limitless" moniker was one that was already established, so we combined the two together. Keith wanted to create a logo that was his own versional of the infinity symbols, so our designers worked out a few and landed on the hybrid diamond-infinity logo you see on the shirt. Along with a silhouette of Keith's signature pose and his two favorite colors, pink and blue, he was extremely happy with how this shirt turned out.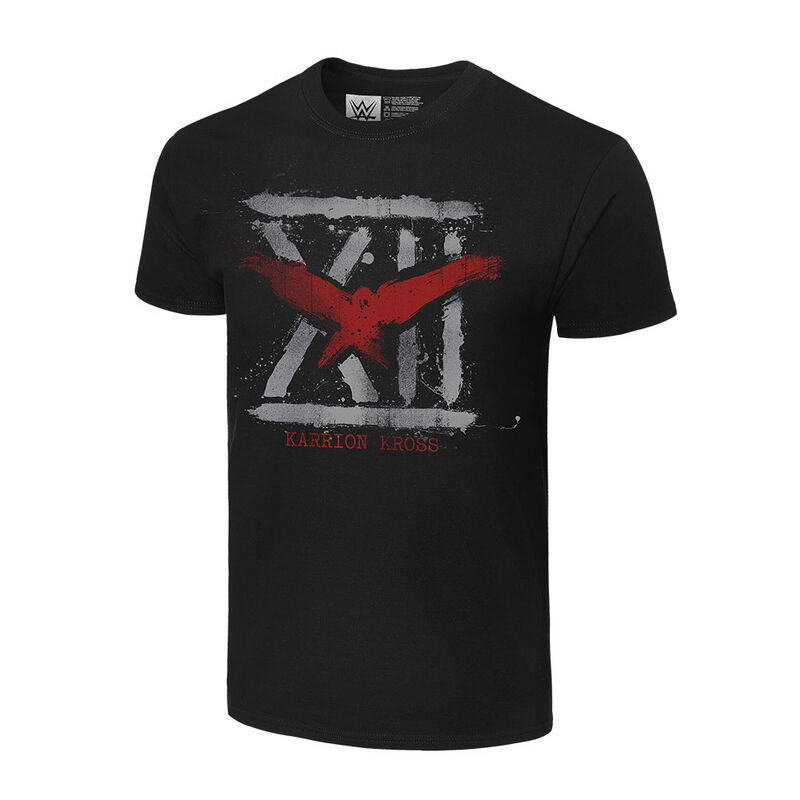 Karrion Kross "XII" Authentic T-Shirt
I worked with Karrion Kross to develop the branding for his transition from the independent scene to his NXT debut. There was a series of vignettes that were released ahead of his debut, each featuring a ticking clock, which is where the 12 (XII) in his branding comes from. The bird comes from the talent's name being "Karrion" which comes from carrion; defined as the decaying flesh of dead animals. Carrion is usually referenced as being eaten by birds, such as vultures.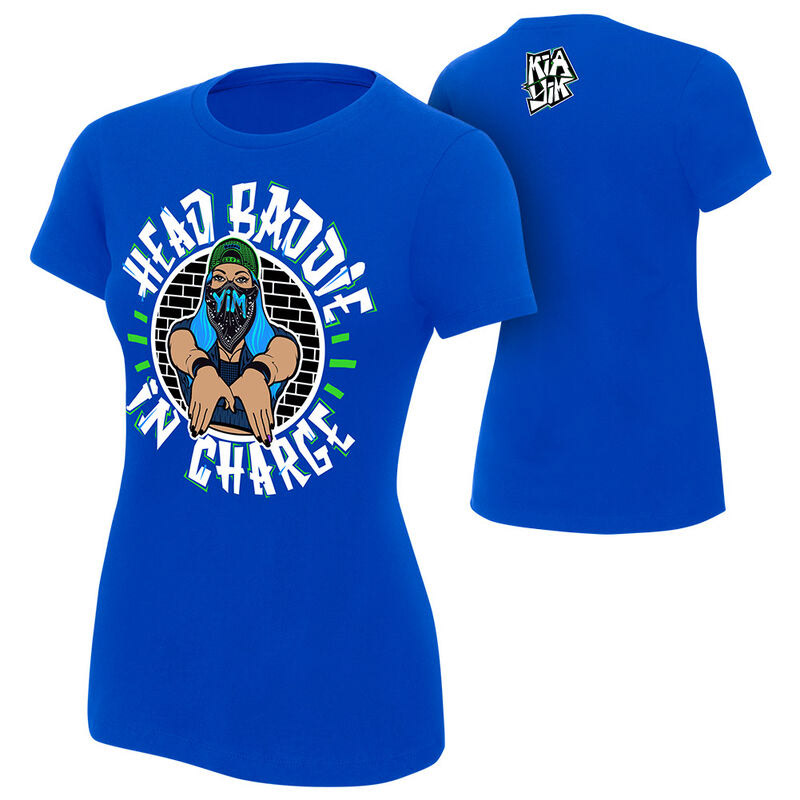 Mia Yim "

Head Baddie In Charge
" Authentic T-Shirt
I worked with "The Head Baddie In Charge" Mia Yim to create a design that represented her character's street origin. Due to her hair color being a vibrant blue, it was important to her that her merchandise be blue, so this design was created and chosen with those thoughts in mind.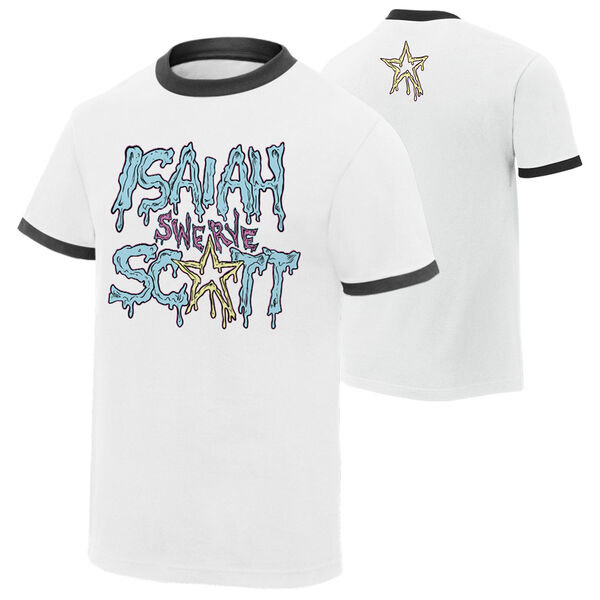 Isaiah "Swerve" Scott 
Authentic T-Shirt
Isaiah "Swerve" Scott and I worked and brainstormed a lot in order to land on this design for his debut authentic. His character borrows from the current hip-hop scene and he is friends with the hip-hop group Flatbush Zombies. He loves their music and their branding and wanted to use their style as inspiration. That's where this melting concept was born.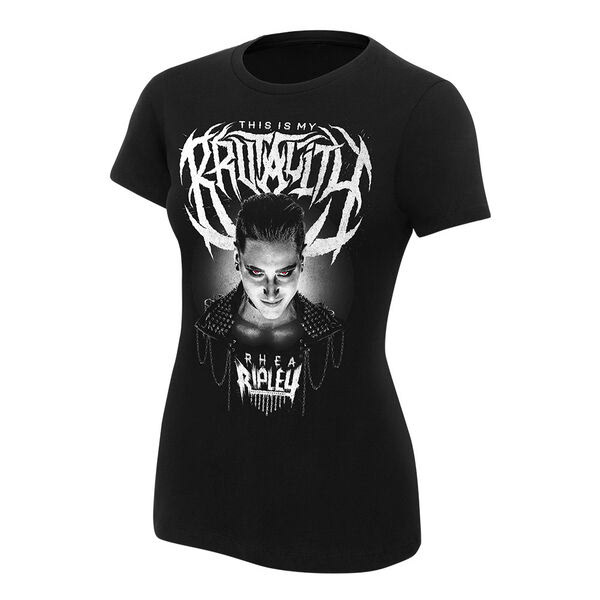 Rhea Ripley "This is My Brutality" Authentic T-Shirt
"The Nightmare" Rhea Ripley's entrance starts with the signature "The is my brutality" intro from New Years Day lead vocalist Ash Costello. Rhea wanted to feature that on her merchandise along with a picture of her dark, punk-metal look. So, this design came about to represent "The Nightmare" and the brutality she brings anybody that steps in the ring with her.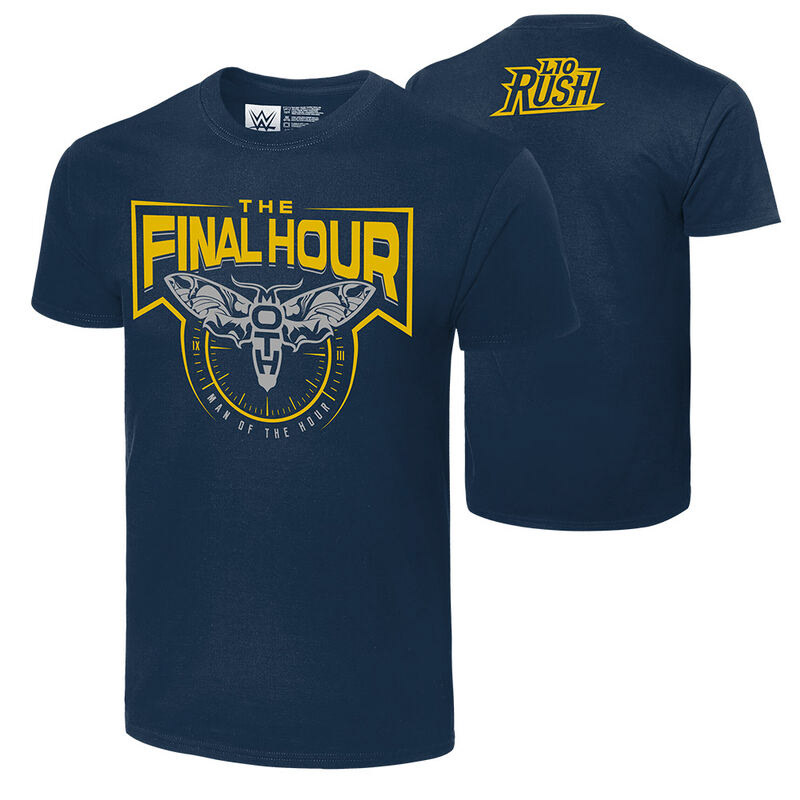 Lio Rush "The Final Hour" Authentic T-Shirt
This design incorporates a few different elements that are part of Lio Rush's branding. His "Man of the Hour" nickname forms an acronym spelling out "moth," so we wanted to feature that in the design, along with the name of his finishing move, The Final Hour. His signature clock is also featured in the base of this design, pulling all three elements together.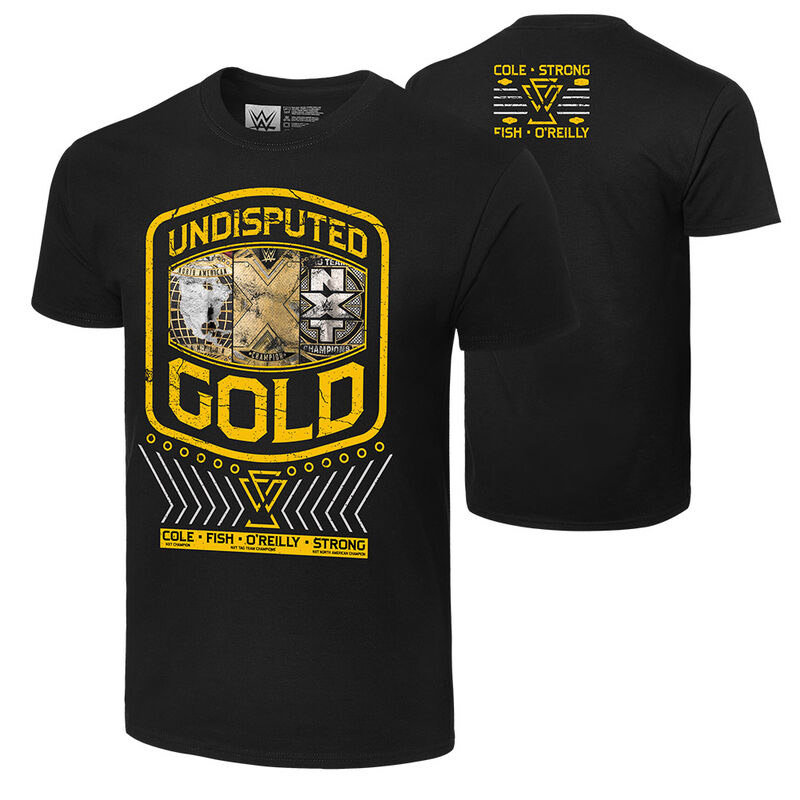 Undisputed ERA "Undisputed Gold" Authentic T-Shirt
Once the Undisputed ERA captured all of the championship gold in NXT, they needed a t-shirt to represent their dominance. This design that shows all of the championship belt's main plates, as well as some stylistic elements from the belts and the moniker "Undisputed Gold" was created. This was one of NXT's highest-selling t-shirt designs to date.